Cheryl and I moved away from a quiet corner of South Surrey called Ocean Park to our current neighbourhood, in 2016.  We had lived in Ocean Park for 21 years almost exactly to the day and it was simply time for a new chapter.  Our oldest son was long out of the house and the 2nd was getting close to doing the same.  One of the aspects of moving was to be able to have our office be a short walk from home.
The house we found (and expect to be living in for several more years) is next door to what is now our new office space.  Not actually 'new' office space as we have been there for over 2 years now.  It's a relatively small, low rise, 2 building commercial complex in a typical suburban, residential area.  On top of a 100 metre walk door to door from home to work was the added benefit of the median age in the area being younger than us.  What better way to stay young then to live amongst people that are younger than you.  Halloweens went from virtually no kids knocking on our door to a swarm of kids numbering well over 120.  Just where we love to be and quite a contrast from our old neighbourhood.
We made that transition 5 years ago.  It was in the middle of a home buying frenzy, much like we have been experiencing recently (as have many other parts around the world) .  In our low turnover neighbourhood, 2 families we know have recently sold their homes.  One of them is a friend Cheryl quickly came to connect with when we moved here.  She and her husband along with their 2 elementary aged girls are moving to a growing neighbourhood near Cultus Lake (technically I think it is Lindell Beach).
My initial silent reaction was, "What?.  That is in the middle of nowhere." Of course, I have an urban bent since Cheryl and I lean much more toward the city rather than further out.  However, talking to her makes me think this really fits well for them. They both grew up in small BC towns.  He is a triathlete and now has a nice cold lake a 10 minute walk away from home.  Along with her ability to connect to her neighbours instantaneously, he owns a business and discovered, with the help of our COVID lock down, that he doesn't really need to go into the office at all.  He can do his part within the company just as well from home.  So from all angles, it appears to makes sense.
I said appears.  Despite that it could be a very good lifestyle move, I believe the financial side of the trade will make them worse off financially, in the long run. When we sold our extensively renovated, small by today's standards, 1963 built "bungalow" with yellow cedar framing (I loved cutting into the walls during renos just for the smell), the vast majority of the value was in the land.  Land as they say, they aren't making any more of.  Our house's value (the structure or building) as a percentage of the total house and lot package was approximately 10%.  It wasn't a wonder then, when 2 years after we had moved our previous neighbour Evan, messaged me on Facebook saying, "your house is coming down today".  Our realtor and good friend Ron said "they paid way too much to tear it down".  Again, it shouldn't really be a surprise.  The enduring value and price appreciation of residential property is in the land, not the house.
Which brings me back to our Cultus Lake bound neighbours.  They have sold a house (structure) that is 19 years old.  The value of the house is a small percentage of the value of the entire package; approximately 15%.  What they are moving to is a still being built, new home.  My estimation is that the value of the house (the structure) will be close to 65% of the house & lot package.
Why do these factors matter?  To show a real life example between house price appreciation vs the increase in lot value, here are some numbers (taken from the City Of Surrey's database, which is of public record):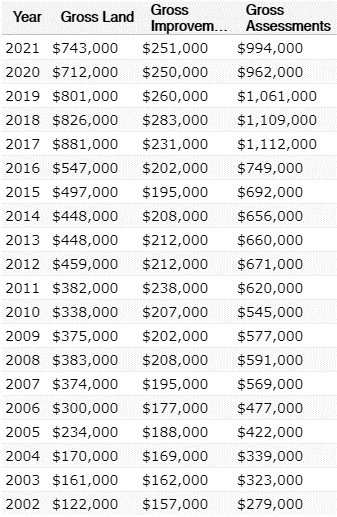 In this typical South Surrey residential property example, you will see that the numbers start in 2002.  That is when this particular house was virtually new; $157,000.  Today the house is valued at$253,000.  That is an annual compounded growth rate of 2.55% / yr which is about the rate of inflation.
Now let's look at the lot value.  It was assessed at $129,000 in 2002 when this was a new development.  As per BC Property Assessment as of July 2020, it was $771,000.  That a compounded return of return 9.87% per year.
Now, let's look at a newer property.  I just got a flyer in the mail after I posted this blog so I thought I would add this as an interesting comparison.  This one is a 10 year old townhouse, again in South Surrey: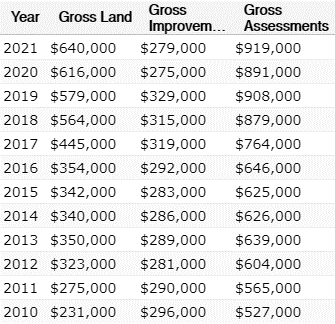 Several years ago a couple I know sold their home in a highly sought after, very well established neighbourhood in South Surrey with homes from the 70's and 80's.  Families with pre-teens and teens loved to live here.  This couple moved into a newer development that was not nearly as established and closer to the major traffic arteries.  The house was much newer than their old house.  As well, the lot was smaller and not nearly as valuable due to its size and location.  The comment made to me was that they thought this would be a better investment. I had to bite my tongue.
Home buying decisions are of course not just financial ones.  They need to work for your lifestyle.  However, when you make a decision which could affect a large (if not, the largest) part of your net worth, it needs to be done with all the facts laid out.
Financial Planning looks at all angles of a person's financial decision making and habits so as to add gains in every way.  It isn't simply about investing and RRSP contributions.  Every small advantage adds up to a large sum.  Being aware of what you are buying (or deciding not to buy) using a non-emotional set of tools to give you the full picture (in this case the house value as a percentage of the total property price) is simply a better way to make decisions.